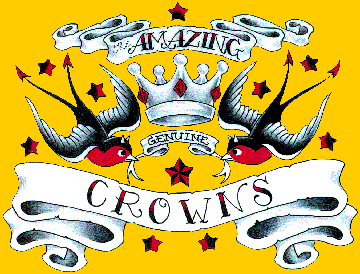 VS.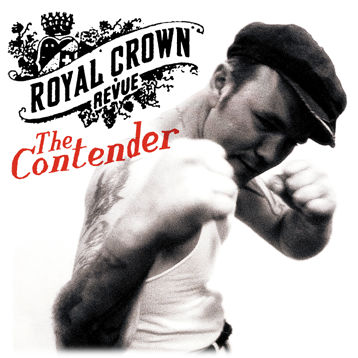 Now, I don't know if you have heard, but recently there has been some legal matters between The Amazing Royal Crowns and Royal Crown Revue. Here's a copy of the story from MTV Online.
Royal Crown Revue Wins Legal Battle With Amazing Royal Crowns Over Name Confusion
The punk/rockabilly band Amazing Royal Crowns will have to change its name before August 31st as part of a settlement agreement with the jazz/swing band Royal Crown Revue.
The latter act asserts that the bands' names were too similar and likely to cause confusion, which could result in a loss of revenue for both Royal Crown Revue and its label Warner Bros. Records.
According to a spokesperson for the Providence, Rhode Island-based band Amazing Royal Crowns, the group was told of the impending suit in late May, for which they filed an injunctive relief in New York. On that same day, the California-based band Royal Crown Revue filed a preliminary injunction in California's Central District U.S. Court to stop them from using the name. The Amazing Royal Crowns then filed a motion for a continuance due to a lack of funds and their tour schedule, which was denied by Judge Mariana R. Pfaelzer on Monday (June 29), according to a spokesperson for the group.
Since the act and its label Monolyth/Velvel Records couldn't risk the possibility of a ruling against them, which would have resulted in a cease and desist order, they decided to settle the case. Aside from the name change, no other details have been announced of the settlement as of yet. The Amazing Royal Crowns, who are currently in the midst of a national club tour, had their new single, "Do the Devil," shipped to stores on the day of the ruling.
The reason I reprinted this is because I didn't want to mix up all the legal mumbo-jumbo. Anyway, I find all of this annoying. For crying out loud, Royal Crown Revue got their name from a type of hair grease, so their name is original anyway. I'm also surprised at Royal Crown Revue for doing this to a band that's starting off quite the same way they did. I also take issue over RCR's and their label's view that it would be "a loss of revenue". If anything this whole name change has fractured a market that would've bought both groups albums. Now, ARC fans feel hurt and want to stay loyal to the band, so they won't buy RCR's albums. In fact, I know some people who have returned their RCR albums because of this issue.
Now, I am a fan of both these groups. ARC is from Rhode Island, where I'm from, so I do feel proud when someone mentions them is a national context. Also, I know Jason from ARC and he is a swell guy. Obviously, ARC is very upset at the name change. At the NE Ska fest this year, Jason told the crowd to pretend the ground is RCR and to stoomp on it. Much of the crowd cheered. Does Warner think that RCR will sell better in the Northeast now?
My point is, I feel conflicted. I bought RCR's new album on the same night I bought a ARC EP. While I was buying them I felt like I was doing something wrong, like in something out of a sitcom I buy on CD and then return to the store in a bad disguise and try to buy the other one. However, I did buy them both and enjoyed them both. The reason I'm writing this is I feel there are some other who feel like me. Not to sound all sixties, but it's all about the music. Regardless that I think RCR were wrong in doing what they did, when I hear "Zip Gun Bop" I'm going to tap my feet and sing along, the same with "Do The Devil". So if you feel conflicted, put the CD on and if you like it, listen to it. If you don't like what you're hearing,shut it off, that alone should be the basis on what you want to listen to.


Click on the serious looking fellow or hereto go back to the main room.